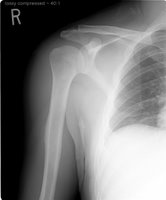 I've never been the most flexible person. I strained the MCL in my left knee a few years ago. The first time I met Dev, my physiotherapist for that injury, he took a look at me on the table and asked, twice, if I had ever injured my right knee. I can't straighten my leg so that the back of my knee lies flat. Heck, I can't sit cross-legged without toppling over.
My right shoulder has been slightly painful in certain motions for a long time, but over the last six months, the pain has been worsening, and lingering. My mom runs an
orthopedics office
, so I figured I'd get it looked at while I was visiting.
The
doc
diagnosed an
impingement
, which is a common cause of shoulder pain. The problem tends to enter a cycle of reinforcement if not corrected to the point where the shoulder locks up. The cure is shoulder exercise to strengthen the rotator cuff muscles, along with treatment for the inflammation, so the exercise isn't painful.
If I had to guess, I'd say my years of softball did my shoulder in. I've never been the most mechanically sound thrower, and even playing second base I bet I did my shoulder in. It's not hockey - there's not much overhand motion in hockey.
The doctor offered me a shot for the inflammation, which is standard for worse cases. Since the shot won't solve the underlying problem and is only a panacea for the pain, and my shoulder stills moves pretty well, he was ambivalent. I declined the shot. My mom, who was in the examination room, called me a chicken shit.
I'm on Celebrex and exercise and we'll see how that goes. That's my shoulder in that X-ray.
To tie in softball/baseball, my brother treated my family to the
Astros game last night
. Even the outs the Astros made on Doug Davis's pitches were hit hard. The game went long, so we had to leave after the seventh. I didn't mind. Lance Berkman was out of the game by that point and the Astros had a 12-6 lead.
(I set a personal record at the Juicebox: closest I've ever been to a President. We sat inside of 100 yards up and left of George H.W. and Barbara Bush, in section 116.)
Child Three received a ball from Carlos Lee after batting practice, who would go on to homer twice after we left the ball park to help the Brewers make it a 13-12 final score. Shades of the
last baseball game I left early
.
We left before the end of the game to go meet Target and Bombshell (a.k.a. Mrs Target). My brother took the kids back to my mom's and Elvi and I went out for drinks with them. Target is the project manager of WarBirds; I've met him before. We talked surprisingly little about airplanes - much, I'm sure, to Elvi's dismay - but during what little airplane talk did fly across the table, Bombshell and I had to remind Target that the name for the complicated aeronautical concept he was discussing is "thrust".
I put in my obligate request for the Avia S-199 in the game and described how the Israelis and the RAF came to blows. Target also asked me what Sheep's End was - he's a friend of the blog, apparently. For all those wondering, Sheep's End is the village in which "Sheep's End" the story takes place. And the rewrite has leapt a stumbling block and is moving forward, thank you very much.
How does Target tie in to my shoulder? Do you have any idea how much my shoulder aches when I push my Thrustmaster Cougar around? The springs in that thing are robust.
Bonus Irrational League update:
.299 batting average (1st)
32 HR (2nd)
113 RBI (1st)
8 SB (tied 8th)
4.30 ERA (4th)
1.17 WHIP (1st)
10 wins (tied 2nd)
7 saves (tied 3rd)
That gives me first place with 64.5 points and an 8 point lead over two teams tied in second. I could use some stolen bases, but I don't think I need them if I can stay in the middle of that category.