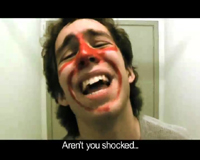 "
How Not to Make Movies
" is a fun satire of student short films, made as a student short film in Turkey.
I learned of filmmaker
Nemo Ramjet
(great name for a superhero, eh?) through Darren Naish's blog. Nemo is an illustrator primarily, and he enjoys drawing the results of hypothetical evolution. Some of his work reminds me of "
Alien Planet
", which aired on the Discovery Channel last May.
Enjoy the short.