IWC, the high-end watch company, produced a film to advertise its Pilot watch. The film stars two clipped-wing Spitfires, a LF IX E and a XIV. And a Junkers Ju 52. And John Malkovich. I fell in love all over again. Not with John Malkovich.
Watch
here
.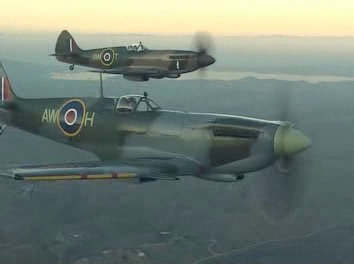 Then, watch the "making of" film
here
.
I think those two gorgeous creatures both belong to the Planes of Fame in Chino, Calif. That museum's LF IX spent its career with Canadians, shooting down two Bf 109s with a third probable and a probable FW 190.
Bonus thought of the day:
If dogs had reached the levels of intelligence and technology that characterize modern humans, would they urinate in toilets? Or would scent still be so important to them that they'd pee on their homes' walls?