Just another brief note here. I'm extremely busy not doing all the work I have to get done.
I received an e-mail yesterday that was the first reply to an e-mail I'd sent in June 2004 - with apologies, of course.
I'd asked the webmaster of
Tel Aviv in Focus
if he knew whether or not the Yarden Hotel on Ben Yehuda Street was still standing. The hotel served as quarters for air force personnel in 1948. I also asked him to snap a photo of the place if it did still exist.
Today, I got this: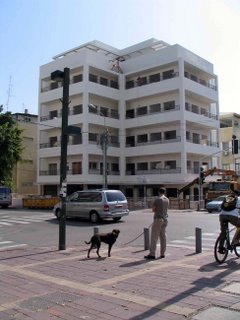 It looks familiar, but I don't know why. I can't find an old photo of the building in any of my books. I'm not sure if this is the correct building or not. Maybe
Lou
can tell....
UPDATE:
What do ya know? I had sent Mr. Webmaster this: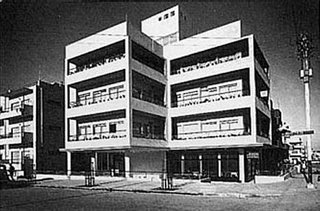 It's on the corner of Ben Yehuda and what is now Ben Gurion Street (formerly Keren Kayemet Street).