One of the things I do once in a while is build aircraft skins for WarBirds. I've posted
two of them
, but I recently came across a photo that adds a little meaning to this little hobby. On this computer screen, you can see a skin I created. It's the Tomahawk Mk IIB (P-40C for you Yanks) flown by Neville Duke when he was shot down over North. Duke had scored three kills in this aircraft and would become the highest scoring Allied ace in the Mediterranean theatre.
That's him in the photograph below, approving my work.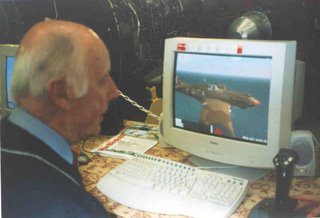 Here is a better view of my skin, followed by a photo of the real thing.
Duke passed away
a week ago.
Bonus video:
Speaking of that generation of British pensioners, here's a song.