I'm taking the train to Toronto today and sleeping at my sister's home before our meeting on the Jewish war vet memorial tomorrow.
My train is at 5:20, not 3:45 as I had gathered from looking at my ticket. I am, however, seated in car 3, seat 45 once I do leave in two and a half hours.
Last night, I attended another Montreal Film Group soiree. I ran into Robert the Director and we chatted about his film (premiered a few weeks ago) and his latest work. I also saw polyglot ex-student and sometime blog-reader Iuliana. I chatted a bit with a writer I'd met at a presentation at the NFB a month ago and brainstormed marketing of my book with Sandy. Sandy's an awesome, possessed journalist/adventurer type, though not quite as adventurous or possessed as Kenny Hechtman, whom we also discussed. Kenny and I were on the same Reach for the Top team. Damn you for being so good, Jerry Moshopoulos (I don't remember the spelling, only the name) from Malcom Campbell. Sandy's brother was our team coach.
I also made a new friend, Josh, who's eerily like me in several ways and has some of the same story problems. We had a fruitful discussion.
Over the course of the evening, three people commented on how nice I look and none of them were my wife, who was supposed to come to represent her band at this evening whose purpose was to bring filmmakers and music makers together. One of these compliments came from Robert, who took care to point out the heterosexuality of his opinion. Odd. The only thing difference beyond my standard appearance was that I wore dress pants instead of chinos because all my daily-wear pants were either dirty or too short. Maybe I need more dress pants.
I'll post about our meeting within a few days. In the meantime, here's some funny. I
stole
found this map of anagrams of Montreal Metro stations out on the wild, wild Web.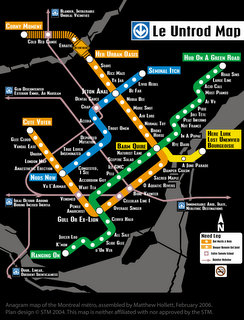 Bonus baseball update because I have an hour to kill:
Remember how I said on June 2 that I could get back in the race with a decent month? Here's my last 14 days:
.278 batting average
25 HR
93 RBI
11 SB
3.17 ERA
1.18 WHIP
3 wins
3 saves
The only flaw is that my starters find themselves in tough losses. Last week, only one starter gave up more than three runs yet I had no wins.
I've moved up from ninth to sixth, with bursts to fifth:
.262 batting average (8th, .002 out of 5th)
86 HR (6th, one HR out of 5th)
375 RBI (5th, five RBI out of 4th)
45 SB (tied 5th)
3.69 ERA (3rd)
1.30 WHIP (3rd)
28 wins (tied 10th)
23 saves (7th)